New Features: COVID-19 Contact tracing

I hope you are all keeping well during these difficult times. I know everyone busy adapting to our new normal so I'll get to the point and announce all the new Virtual In/Out Board features since our previous update.
We've added several new features to help during the COVID-19 pandemic:
Visitor Contact Tracing: Additional questions for visitors, including health screening, contact details, etc, logged for 60 days.
Contact-less Visitor Sign-In: Prevent visitors having to share touchscreens.
Staff Location Log: Keep a log of who's in the office and who's at home, to help with contact tracing.
New Marketing Director!
But before we get into the details, I would also like to welcome
Joseph Stretch
to Spotty Dog Software as our new Marketing Director! Joseph has vast experience with Digital Marketing of startups. Joseph's been helping us for a while with our website redesign and re-branding, and is now with us long term as he improves our social media presence and advertising.
As a first step in that direction, please follow us on
Facebook
!
1. Visitor Contact Tracing
Our Visitors feature has been around for a long time, but we've enhanced it so now you can use it to contact recent visitors if your workplace it exposed to a case of COVID-19.
You can now ask your visitors for additional questions including:
Contact number or email
Who else is with them - so if a group of visitors arrive together you can log them all more easily.
If in the past 14 days they have been overseas, had Covid symptoms, or been in contact with anyone who has.
We've also turned on our Visitors Log for all accounts, so all your visitors are logged 60 days. As with all our data, it is all transmitted and stored securely. Only your Company Admins and Team Admins can view the visitor logs.
Because of this, we've also added a short Privacy Disclaimer (optional) to the Visitor Sign-In Form.
If you turn on all the
options
, the new form looks like this: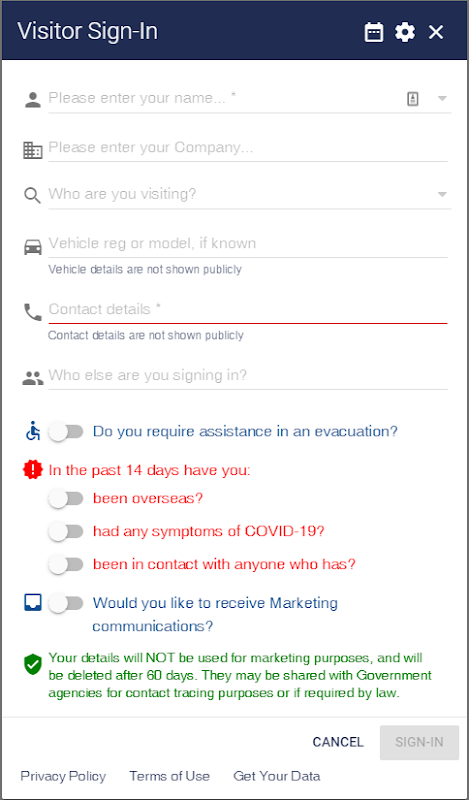 Head to the
Company Settings
/
Visitors
page to see the new options.
2. Contact-Less Visitor Sign-In
Your staff can already sign-in from their own computers or phones (using our
Android
and
iOS
apps), but now so can your visitors, simply by scanning a QR code on their own phone!
This option is also in the
Company Settings
/
Visitors
page, near the bottom "
Show QR code
". The QR code is shown at the bottom of the Visitors page on your
Kiosk Accounts
, so if you haven't already created a Kiosk Account
make one now
.
You can also download the QR code to print out, or email a link to your visitors in advance, see the "
Show an email/printable version
" option.
The visitor will have to install a barcode scanning app on their phone, but on most iPhones the camera app can scan barcodes without having to install anything.
When the visitor scans the QR code they will be taken to a webpage to complete the same Visitors Sign In form. As a bonus, once they've scanned the barcode once they can keep using the same page to sign In/Out on future visits without having to retype all their details.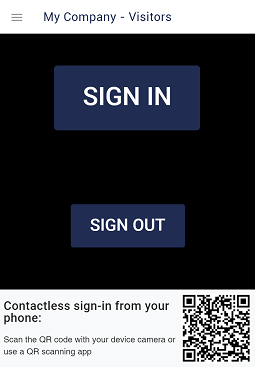 3. Staff Location Log
By default our system does not keep a log of staff movements - we only store their current location and return time so their colleagues know where they are. However, we have provided a Logging feature for any company who specifically asks for it.
To help with contact tracing of any COVID-19 cases in your workplace, we've now decided to make this feature available to everyone, but still off by default.
To enable the Staff Log, head to the
Company Settings
/
Logging
page.
Due to the extra long-term data storage, we charge an additional 50% on top of our normal per-user rates for this feature.
That's all for now, but we do have more features in progress so I'm sure you'll be hearing from us soon.
UPDATED 25th May 2020: Changed visitor log retention from 90 days to 60 days.
Categories
App Connections
Business
Expert Tips
Feature Spotlight
Features
Getting Started
Health & Safety
Technology
Useful Stuff
Visitors
All
Recent Posts
Feature Spotlight: Streamlining Emergency Situations with 'Evacuation Mode'
The Power of Curiosity: Unleashing Our Inner Child in the Age of AI
Tracking Employee Attendance in the Remote Work Era: The Benefits of Digital Solutions for Small Businesses
Why More People Should Fall in Love with Co-Working Spaces
Making Better Business Decisions
Maintaining Workplace Culture in Hybrid Work Environments
Understanding the 'Hybrid Work' Model
Managing Change in the Workplace
Getting Started - Lone Worker Tasking
Getting Started - Managing Visitors
Getting Started - Onboarding Employees
Getting Started: Custom Locations
Send Virtual In/Out Statuses to Teamwork
Connect Virtual In/Out to Zoom for Presence Status Updates
Simple Strategies to Re-Focus and be Productive at Work
Two simple rules managers can use to achieve better communication at work
Use-Full: Facility Management
Feature Spotlight: Late Alerts
Use-Full: Tracking Vehicle Availability
Use-Full: Meeting Room Management
Work Place Fun #3 - Mini Projects
Workplace Fun #2 - Keeping Active
Workplace Fun #1 - Weekly Quizzes
Feature Spotlight: What are Kiosk Accounts?
QR Code Contact Tracing - a cost effective solution for retail and hospitality
Tips and Tricks - Status Boards
New Features: COVID-19 Contact tracing
New Features: Only-Person-In Alerts, Team sorting + more
New Features: Evacuation Mode, Columns + more
New Feature: Custom location colors
New Features: Lone Worker GPS tracking
New Features: Set Everyone 'Out' + Team Switching
Pro Tip for Desktop users: Install to Desktop
New Features: Sign-Out Reminders + more
New Features for Big Screens: Sidebar + Multiple Teams