QR Code Contact Tracing - a cost effective solution for retail and hospitality

Some countries, including here in New Zealand, are considering loosening the lock-down restrictions and opening up retail and hospitality. This is not only vital for our economy, but is also important for regaining some social connections with our friends and family, and some well-needed retail therapy after weeks of lock-down!
But a requirement of opening our shops and restaurants may be having to keep a log of every visitor to your premises - how do you do that?
We already provide a QR-Code Contact-less visitors sign in feature!
We released it a
couple of weeks ago
to all our existing commercial customers, but we thought we'd spend some time showing retail and hospitality business owners how it could work for you.
By following these instructions you could be set up with contact-less visitor sign in in less than an hour - all free for 30 days!
How it works - For the Visitor
To avoid sharing pens or screens, your visitors need to sign themselves in on their own devices. We provide a QR Code which you can print-out and display in your window or on a display stand in your entrance. If you wanted, you could provide a kiosk using an iPad or Android tablet, but you'd have to wipe this down between visitors. Also, your staff could use their own phone to enter visitors details.
If you provide a Kiosk, it would look like this: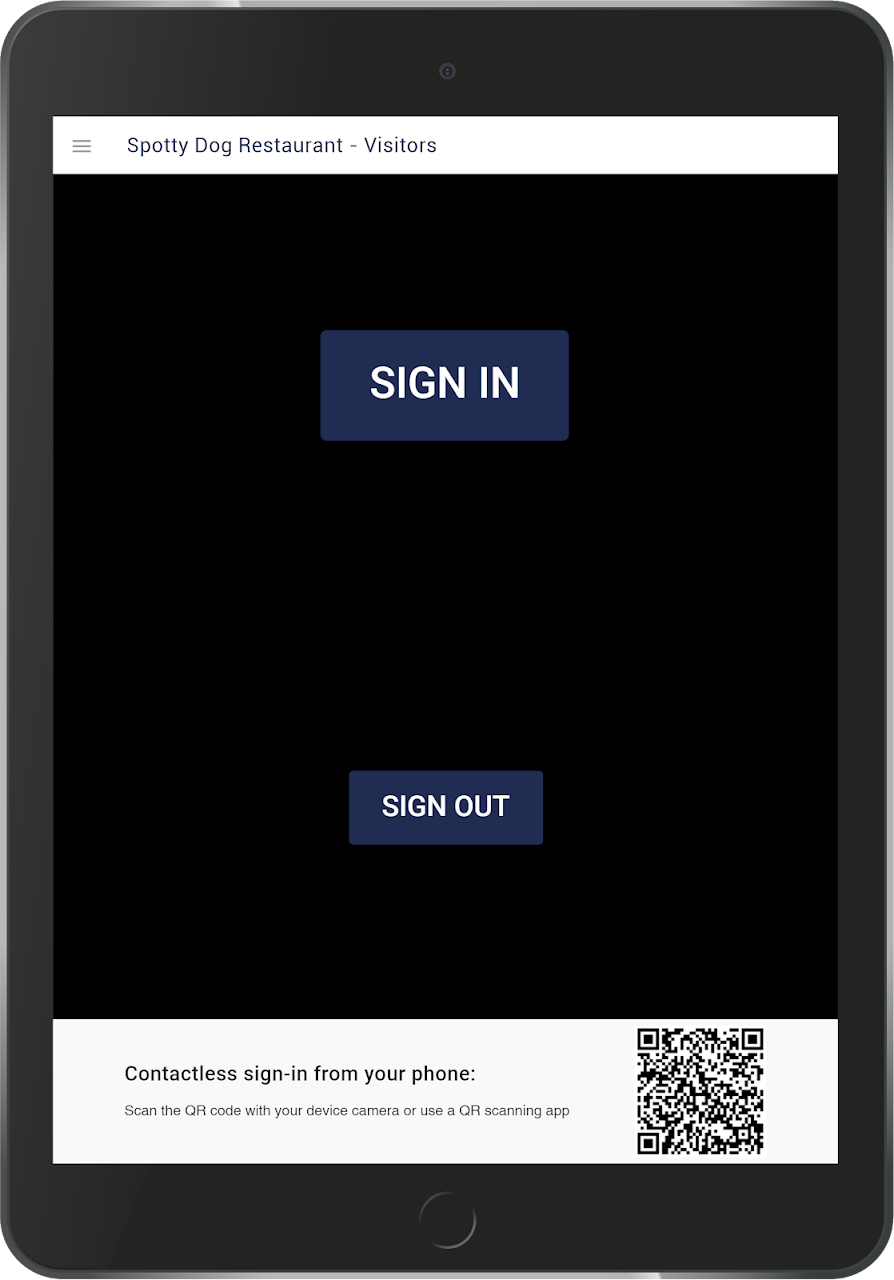 Your visitors can then scan the QR code on their own phones. Did you know that most iPhones have a bar-code scanner built into the camera, and Android's Google Assistant can also scan bar-codes? Other bar-code scanning apps are available.
When your visitor scans the code they are taken to a page on our website: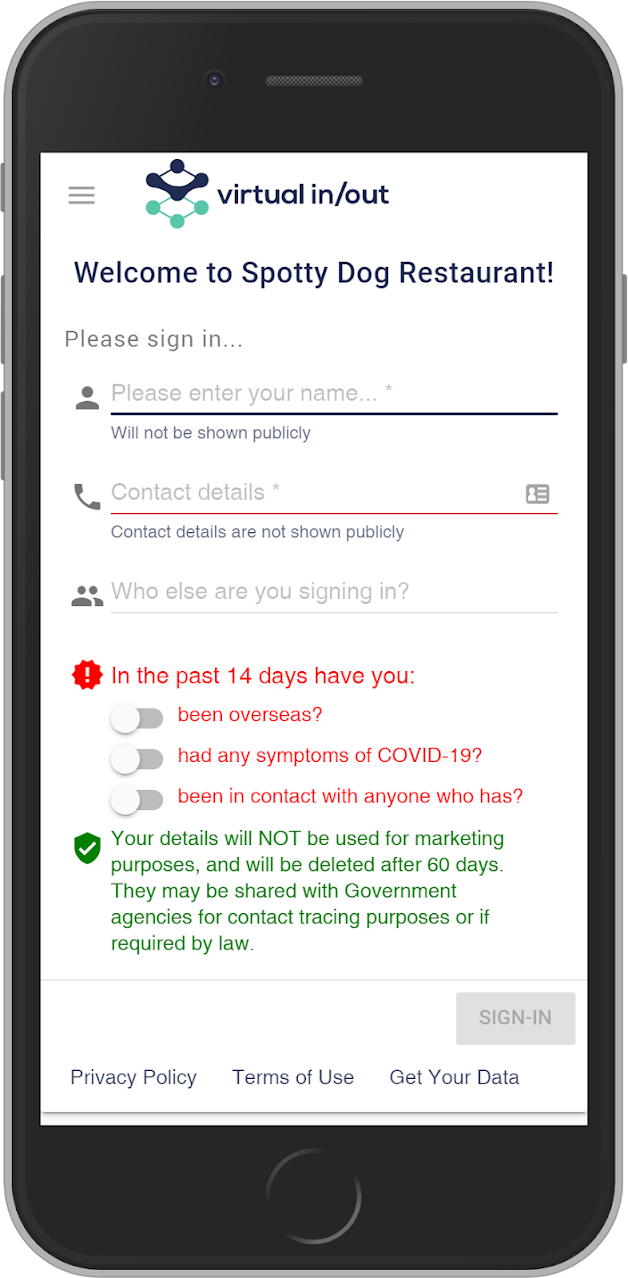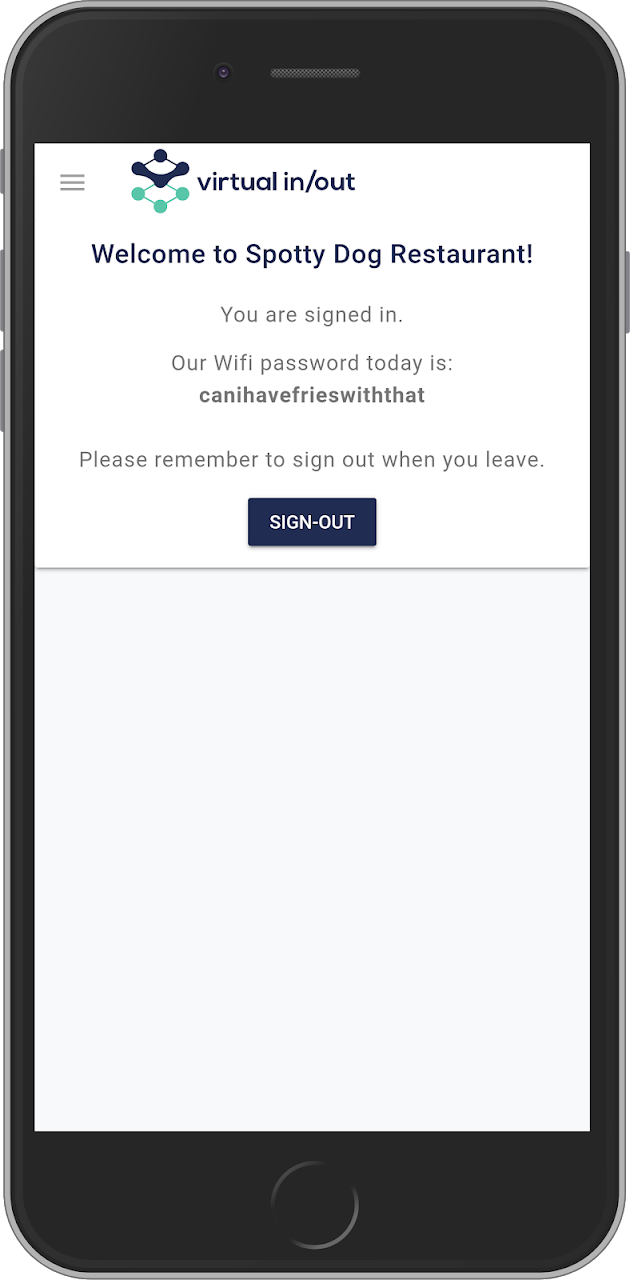 Try it now by scanning this QR Code: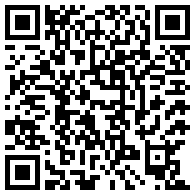 In this example all the customer enters is their name, contact details, who else they are signing in with (maybe a child or elderly relative) and some health screening questions. You can turn some of these questions off, plus there are other questions you can ask if you want. Our commercial customers have questions for who they are visiting, what their vehicle registration is, if they need assistance during an evacuation, etc.
The Privacy Disclaimer shown above is optional. If you don't show the disclaimer then you may have to display a sign informing your visitors what the information will be used for. We are busy adding an opt-in "Sign up for marketing and promotions" button if you want that instead, so please
contact us
if you need anything specific on this form.
When they tap
SIGN-IN
the form is replaced with a
SIGN-OUT
button. You can also add your own
custom response text
, such as the WiFi password as shown above, a coupon code, or a Health & Safety statement.
If the same person comes back, all their details are remembered in their phone so they don't have to enter them again. This even works if you have multiple locations showing different QR codes - they only have to enter their details the first time they visit any of our participating venues.
Opt-In to Marketing Communications
If you want, you can ask your customer if they want to opt-in to marketing communication. If they do, the privacy disclaimer automatically updates and it will not let them submit the form unless they have entered a valid email address.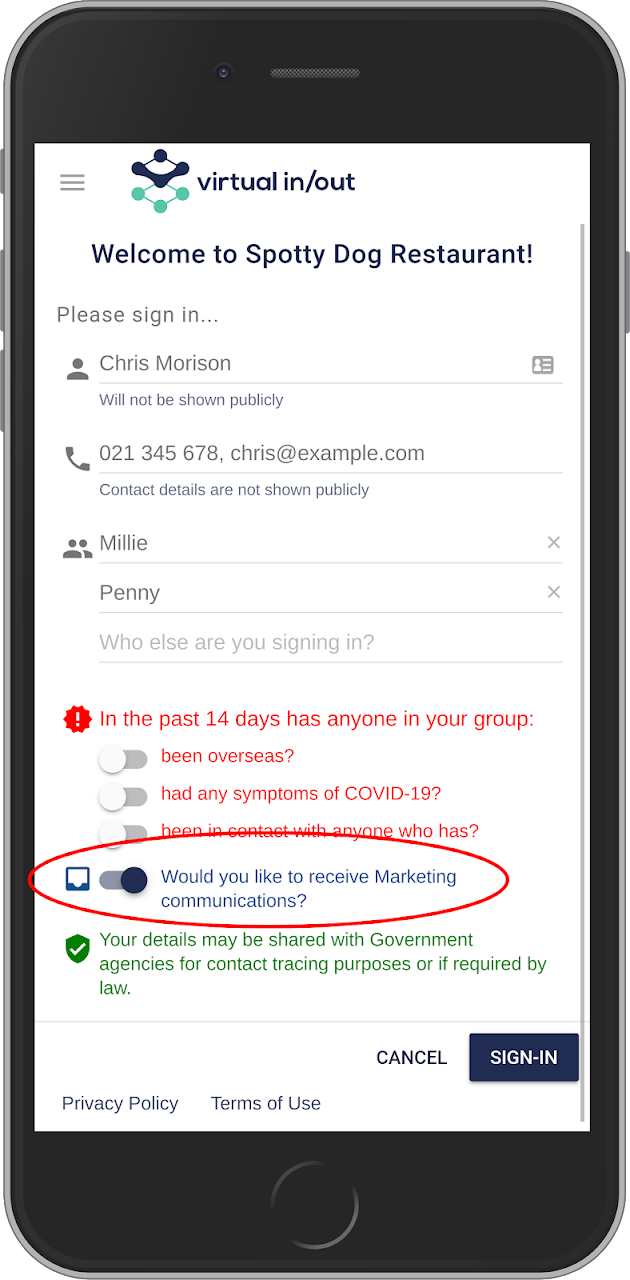 How it works - For you
When you're signed into the Admin pages you will see a list of all your current and past visitors, going back 60 days: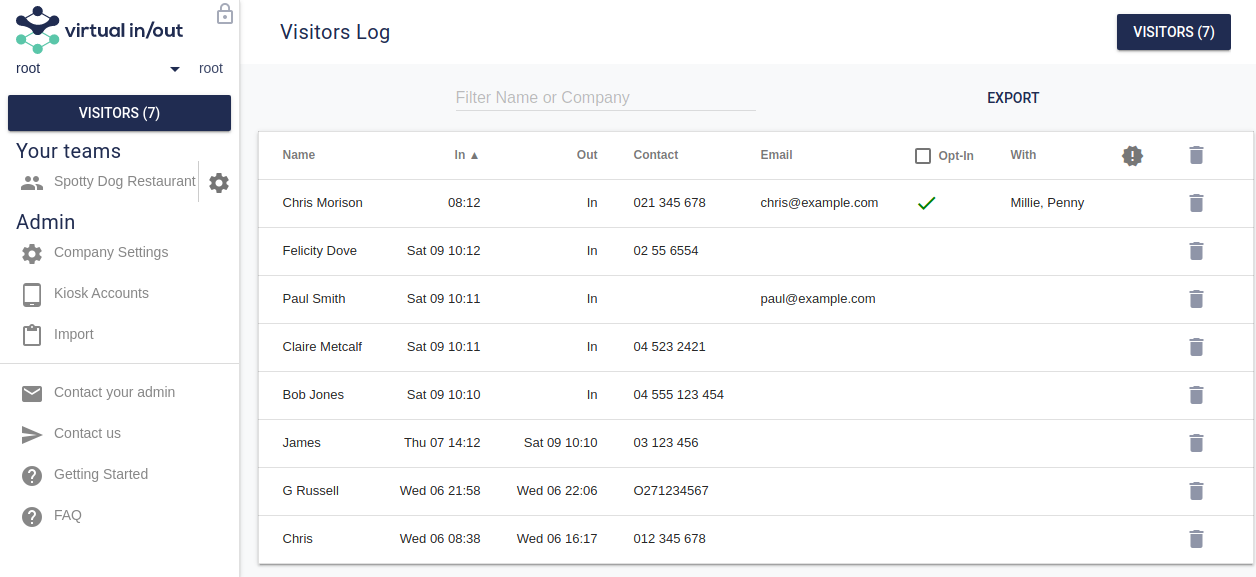 If you are notified of a Covid case in your venue, you can export the list to CSV and send this to the Government contact tracing team. Easy!
You can also filter the list and exported file to show only customers who opted-in to Marketing communications, so you can import this into your CRM database.
Customer Queue & Count
Any of your staff will be able to use their own devices to see a list of current visitors, with the oldest at the top. This will enable you to implement a simple queuing system. They can also see a count of current visitors in the Visitors button in the side-bar menu: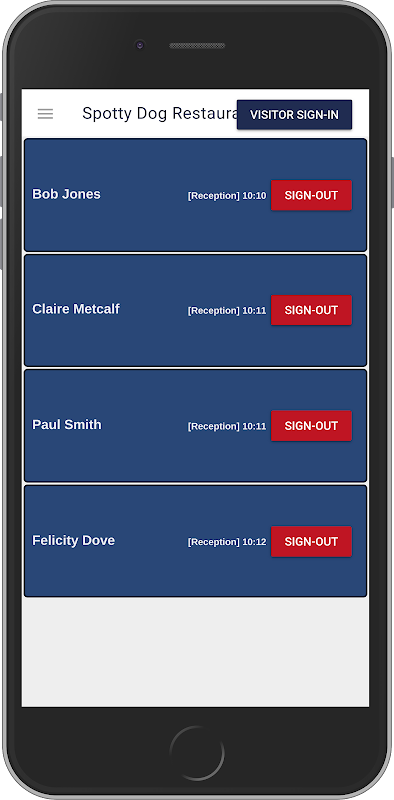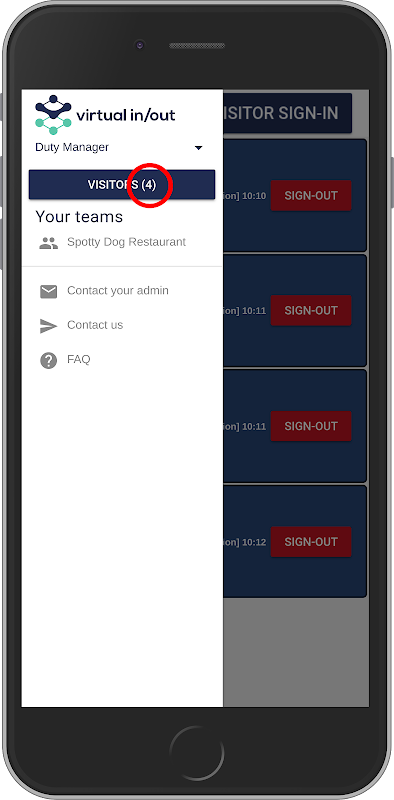 How much does it cost?
Our Visitors feature is included in our standard pricing of
USD $5 per month
for up to 10 real staff and up to 10,000 visitors per month. After that, additional visitors cost only USD $1 per 1,000 visitors. You can estimate the cost using our
pricing calculator
.
How do I get started?
You can get up and running in less than an hour. You don't even need to enter any credit card details until the end of your 30-day free trial period.
Follow these steps:
Visit our Free Trial page.
Enter your name, email address, venue name and a password.
You will receive a verification email - click the link to be taken back to our site and your account will be created.
You can invite other staff to your In/Out board, if you want use it for that purpose as well. These staff will not be "Admins" and will not have access to the Visitor log, but you can make them Admins if you want.
Go to the Company Settings / Visitors page.
Change which questions to ask the visitors: contact details, health screening, vehicle registration, other people in their group, etc.
Enter your custom response text.
Get the QR code to print out:


















If you just want to print out a QR code and start logging visitors, that's it!
If you want to provide a kiosk, click on the "
Edit your kiosk accounts
" link at the bottom of that page and follow the instructions there.
We wish all our customers well during their return to business. Stay Safe!
The Virtual In/Out Team.
UPDATED 25th May 2020: Changed visitor log retention from 90 days to 60 days.
Categories
App Connections
Business
Expert Tips
Feature Spotlight
Features
Getting Started
Health & Safety
Technology
Useful Stuff
Visitors
All
Recent Posts
Feature Spotlight: Streamlining Emergency Situations with 'Evacuation Mode'
The Power of Curiosity: Unleashing Our Inner Child in the Age of AI
Tracking Employee Attendance in the Remote Work Era: The Benefits of Digital Solutions for Small Businesses
Why More People Should Fall in Love with Co-Working Spaces
Making Better Business Decisions
Maintaining Workplace Culture in Hybrid Work Environments
Understanding the 'Hybrid Work' Model
Managing Change in the Workplace
Getting Started - Lone Worker Tasking
Getting Started - Managing Visitors
Getting Started - Onboarding Employees
Getting Started: Custom Locations
Send Virtual In/Out Statuses to Teamwork
Connect Virtual In/Out to Zoom for Presence Status Updates
Simple Strategies to Re-Focus and be Productive at Work
Two simple rules managers can use to achieve better communication at work
Use-Full: Facility Management
Feature Spotlight: Late Alerts
Use-Full: Tracking Vehicle Availability
Use-Full: Meeting Room Management
Work Place Fun #3 - Mini Projects
Workplace Fun #2 - Keeping Active
Workplace Fun #1 - Weekly Quizzes
Feature Spotlight: What are Kiosk Accounts?
QR Code Contact Tracing - a cost effective solution for retail and hospitality
Tips and Tricks - Status Boards
New Features: COVID-19 Contact tracing
New Features: Only-Person-In Alerts, Team sorting + more
New Features: Evacuation Mode, Columns + more
New Feature: Custom location colors
New Features: Lone Worker GPS tracking
New Features: Set Everyone 'Out' + Team Switching
Pro Tip for Desktop users: Install to Desktop
New Features: Sign-Out Reminders + more
New Features for Big Screens: Sidebar + Multiple Teams